Your Appointment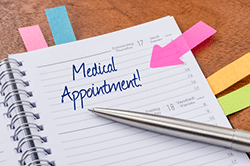 On your initial visit to San Tan Cardiovascular Center, please arrive 30 minutes before your scheduled appointment time to complete registration.
If you are a new patient, you may download the New Patient Paperwork Packet here or request them to be mailed to you prior to your appointment.   
In order to reduce your registration time on the day of your appointment, please complete all paperwork prior to your appointment. 
Obtaining patient information, medical history, and other pertinent information can be time consuming. 
We greatly appreciate your help and cooperation. 
CANCELLATIONS
If you are unable to keep your appointment, please notify us no later than 24 hours in advance of your appointment.  Your courtesy will allow us to accommodate another patient who may need an appointment at that time.
New Patient Information
Please bring the following items on the day of your appointment:
Any paperwork that has been mailed to you or downloaded from this website.
All medical insurance cards so that we can properly file your insurance claims.
Your photo identification ( i.e., driver's license ).
All medication bottles.
Are you using the Patient Portal?
The Patient Portal at San Tan Cardiovascular (STCV) Center is a secure method for patients to access, communicate and receive information related to their electronic health record (EHR) online.
Patients who are "web-enabled" may access the portal securely with a username and password.
The Patient Portal is an easy way to get in touch with your healthcare provider. It is a secure, internet application that allows you to:
Submit requests for medication refills.
Access your visit summaries from each encounter at STCV.
Access your personal health information contained within the EHR including information about labs, diagnoses, medications, immunizations, family medical histories and treating provider.
Request information, such as an appointment with a provider at STCV, and reschedule or cancel an existing appointment.
All you need is a current email address! Contact us today or at your next appointment, ask a staff member to enroll you in the Patient Portal.