Cardiac Rehab
Cardiac Rehab is a medically supervised program designed to improve your cardiovascular health if you have experienced heart attack, heart failure, angioplasty or heart surgery. 
Cardiac rehabilitation doesn't change your past, but it can help you improve your heart's future.
The goal at San Tan Cardiovascular Center is getting our patients on the road to health. By offering these programs to our patients we can help them prevent undergoing repeated cardiovascular procedures and experiencing a suboptimal quality of life.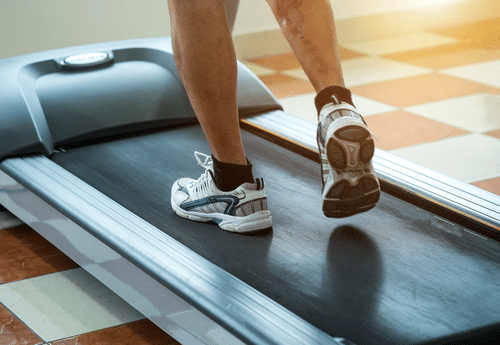 Living a healthy lifestyle that incorporates good nutrition, weight management and getting plenty of physical activity can play a big role in avoiding coronary artery disease (CAD).
What is involved in Cardiac Rehab?
Cardiac Rehab has three equally important parts:
Exercise counseling and training: Exercise gets your heart pumping and your entire cardiovascular system working. You'll learn how to get your body moving in ways that promote heart health.
Education for heart-healthy living: A key element of Cardiac Rehab is educating yourself: How can you manage your risk factors? Quit smoking? Make heart-healthy nutrition choices?
Counseling to reduce stress: Stress hurts your heart. This part of Cardiac Rehab helps you identify and tackle everyday sources of stress.
Types of Cardiac Rehab
There are three types of cardiac rehabilitation.
Phase One Cardiac Rehab.  This involves exercise, activity and education that is stared immediately after a cardiac event (heart attack, angioplasty, stent, bypass surgery, etc.) while you may still be in the hospital.
Phase Two Cardiac Rehab stands for a supervised exercise, education, and counselling program that starts in an outpatient facility. This type of rehab typically lasts up to three months with the patient participating in one hour sessions, three times a week.
Phase Three Cardiac Rehab is a life-time maintenance program in an outpatient facility under supervision of a cardiologist. It is designed to help patients stay on track as they have to live with cardiovascular disease for the rest of their lives.
Cardiac Rehab Care at San Tan Cardiovascular Center
We have a board certified cardiologist, who is also the medical director of our facility, that oversees the care and progress of the patients enrolled in the program. You will also have access to our team of professionals – exercise specialists, nurse practitioners and medical assistants – that collaborate in providing rehab care for you.
Most insurances cover Phase One and Phase Two rehabs, including Medicare. Phase Three usually is not covered and there is a minimal fee for this type of Cardiac Rehab at our facility.
How do I get started?
Here's how to get going and make the most of Cardiac Rehab:
Ask your doctor if you are eligible.
If you are, register for the Cardiac Rehab program at San Tan Cardiovascular Center.
In consultation with your medical team, set goals for your heart health.
Take an active role in your care to achieve your goals.
Keep taking your medicines correctly.
Call 911 if you experience new or worsening symptoms.
We will work together to help create your Cardiac Rehab plan!
Cardiac Rehab FAQs
Q: Do I need a referral from my doctor to start Cardiac Rehab?
A: Yes, and that's one of the top reasons patients don't go. All too often, doctors don't suggest Cardiac Rehab. It's hard to participate in something you don't know about. Studies show that women are even less likely than men to be referred to Cardiac Rehab, even though women who complete it receive greater health benefits. The short answer? Ask your doctor to refer you to Cardiac Rehab.
Q: At my age, I don't see how Cardiac Rehab could help. Isn't it too late for me?
A: Cardiac Rehab isn't just about having a healthier future and the possibility of living longer – it's also about a better quality of life right now. Whether you're 38 or 88, you are alive at this moment – and it's a precious gift. Talk with your medical team to find out how the Cardiac Rehab program at San Tan Cardiovascular can be tailored to your age and your physical capacity. Make today count!
Q: I just never feel good. How am I supposed to benefit from Cardiac Rehab if I'm too sick to go?
A: Feeling lousy can make us want to crawl in bed and stay there. Sometimes, that's what our body needs as it works to heal. But that dynamic can also become a trap that leads to other health problems.
Talk with your medical team. Tell them exactly how you're feeling: where you have pain or discomfort, and what symptoms you're experiencing. If they determine that you can safely participate in Cardiac Rehab, ask them to be specific about any limitations you face and how much you should push yourself.
It's up to you to go. Cardiac Rehab helps you get better (and, in all likelihood, feel better) when you stick with it over time.
Q: I have too many responsibilities at work and home to bother with Cardiac Rehab. How can I resolve work schedule conflicts and balance everything?
A: It can be difficult to put your health first when you have other responsibilities. But remember, without a healthy heart you can't do anything else.
Communicate with your family and your employer so that everyone understands that your heart problem wasn't just a few days off work – it was a wake-up call. If you want to get back to your regular responsibilities, make Cardiac Rehab your top priority. 
Cardiac Rehab is a team effort
You don't need to face heart disease alone. You'll partner with doctors, nurses, pharmacists – plus family and friends – to take charge of the choices, lifestyle and habits that affect your heart.
The team at San Tan Cardiovascular will help you get on the right path to health!